Monday night at 11:25 Ariel Rose finished her journey here on earth. She is no longer in pain, no longer struggling to breath and finally cancer free.
In 14 years this amazing girl had a larger influence on this planet than most of us can hope to have if we live to be 94. She was smart, loved her twin sister and brother and wanted to work with lions and tigers. She loved her San Francisco Giants, especially Sergio Romo. When he threw the last pitch over the plate to win the World Series this year I was at the family home. There was cheering, and then we packed the family into the car so they could race Ari to the hospital due to seizure activity. She would watch games from her hospital bed and yell at the screen while procedures were done to and around her.
She fought until her last hours, her mom snuggled up against her in bed at the hospital. When Crystal saw how hard her daughter was hanging on she held her close and told her it was ok to go now, that she'd fought long enough and they understood how tired she was. Shocked, stunned, grief stricken. We should not be burying a 14 year old girl but we will.
A month ago Crystal and I stood in the parking garage at Children's and she said to me "Did you know they sell coffins at Costco?" That was the beginning of one of the strangest conversations I hope to ever have. She asked me to make a special shroud for Ari, a gold lion on a deep red background, the colors of Gryffindor house. Ari was HUGE Harry Potter fan! She wants the word "Brave" (after Ari's favorite movie and indomitable spirit)  and Ari's name. Of all the projects I've done in my life this will be by far the most challenging.
In Ari's spirit you can go to either Ariel is Brave or Team Ariel on facebook and leave a comment or load a picture of you holding the "Brave" sign like she's doing in the top photo.  Sergio Romo tweeted a couple pics of Ari that you can see here.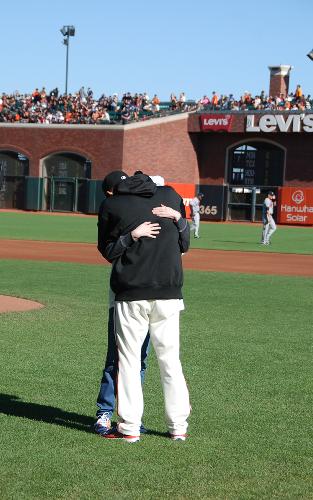 You can read about her journey on her caringbridge page.
Ari and her sister were featured in this blog on July 31, the Harry Potter Birthday post. You can see photos of them during better days here.